If you are an avid fan of target shooting, hunting during all types of light conditions, or tactical shooting, there is one optic I have found that can meet your needs: the Vortex Diamondback 4-12×40.
Known for its versatility, ease of use, and quality optics, I assure you that this Vortex Optics rifle scope will surely level up your outdoor shooting experience with its MOA reticle, high-quality glass, and features that put other scopes to shame.
Get ready to learn more about it as I take you through the features of this Vortex Optics rifle, as well as give you some alternatives to consider in this Vortex Diamondback 4-12×40 scope review.
Let us get started!
Vortex Diamondback 4-12×40 Overview and Key Specifications
BUYING OPTIONS:
» Best Price on OpticsPlanet «
» Check Price on Cabelas «
» Check Price on Amazon «
Key Features
| Features | Vortex Diamondback 4-12x40 |
| --- | --- |
| Magnification Range | 4-12x |
| Objective Diameter | 40 mm |
| Tube Diameter | 25.4 mm (1 in) |
| Reticle Options | Dead-Hold BDC |
| Field of View | 11.3 - 32.4 feet at 100 yards |
| FFP/SFP | Second Focal Plane |
| Adjustment Click Value | 0.25 MOA adjustment per turret click |
| Windage and Elevation Turrets | Capped |
| Length | 11.9 in |
| Weight | 14.6 oz (413.9 g) |
| Eye Relief | 3.1 in |
| Other Special Features | Precision glide erector system on the turrets, parallax setting is non-adjustable and fixed at 100 yards |
The Vortex Diamondback 4-12×40 has much to offer, from its rugged construction to its high performance.
Learn what it can offer through this table and other details in this comprehensive review!
Ratings by the Numbers
Mechanical Design & Construction
4.5
Usability: 4/5
This Vortex scope offers clear optics from its extra-low dispersion glass to its high magnification options that accommodate different shooting scenarios. User-friendly features include its controls and turrets, which make it easier to make adjustments.
Optical Performance: 4.5/5
Its optical performance is impressive because the images appear crystal-clear, bright, and accurate to their actual color. I can vividly see the image and the reticle using its fast-focus eyepiece with a precision glide erector system in low-light conditions.
Mechanical Design & Construction: 4.5/5
Durable construction and efficient design make a rifle scope worthwhile. This Vortex rifle scope is made from high-quality, fully multi-coated aircraft aluminum and shockproof rugged construction, making it feel robust yet lightweight, regardless of the environmental conditions.
Value: 5/5
Being budget-conscious, I put a premium on how its features compare to its price. This Vortex Optics rifle scope is truly satisfying to use because of its superb optical performance, durability, usability, and reliability at a price point that is not as heavy as other rifle scopes.
Purpose and Shooting Style
In my experience, the Vortex Diamondback 4-12×40 is a versatile scope that serves users with different shooting styles well.
To give you a summary of how it can be applied to varying styles, here is a comprehensive list.
Hunting rifle scope:

It has a 4-12x entire magnification range, making it easier to identify targets, shoot precisely, and balance the field of view needed on a hunt. This rifle scope even provides good lighting transmission, making it a must-use in low light.

Tactical scope:

If you need to practice basic tactical scenarios, this can be one of your best friends. Its benefits for tactical scenes lie in its clear glass and user-friendly adjustments that enable precision, clarity, and versatility

.

Target shooting:

A target shooter that engages targets at medium to long-range shots will love this scope because of its magnification range, fine and clear Dead-Hold BDC reticle, adjustable turrets (windage knob and elevation knob), and forgiving eye relief.
Glass Clarity and Reticle
Going straight to the point: the Vortex Diamondback 4-12×40 scope will give you clear and sharp images and a Dead-Hold BDC MOA reticle that will allow you to make accurate shots, whether for short or long-range shooting.
Aside from its fast-focus eyepiece, which presents the sight picture clearly, its anti-reflective coatings also eliminate light glare that can make shooting quite inconvenient.
I also like that it is useful even during dusk or dawn because it adjusts well in low-light conditions. The Diamondback also offers quick and easy reticle focusing with its precision glide erector system feature.
The Dead-Hold BDC reticle is also a must-have due to the fact that it helps users calculate not just bullet drop but even wind drift! The Dead-Hold BDC reticle has hash marks that form along both the vertical and horizontal crosshairs to aid in calculations.
When I performed a box test, the marks made it more convenient to aim at different distances because I did not have to adjust turrets continuously for accurate bullet drop compensation.
With the Dead-Hold BDC reticle, clear glass, and a reliable fast-focus eyepiece, I saved time and could aim and shoot more quickly, which makes the Diamondback ideal for dynamic encounters.
Eye Relief & Eye Box
Comfort is crucial to me, and I am glad that this 4-12×40 scope provides a generous eye relief of 3.1 inches from the eyepiece to the shooter's eye. This gives it excellent eye comfort while preventing scope eye injuries. It benefits beginners and pros alike.
Adding to the overall shooting experience is this rifle scope's eye box, which is large enough to accommodate varied eye positions while shooting.
Regardless of your eye position, you benefit from a clear and full-sight image, even when moving.
Durability and Weather Resistance
This rifle scope is designed and built with durability in mind, as seen in its aircraft-grade aluminum construction. This enhances the scope's overall robustness and resistance to impact and high-caliber recoil.
With its high-quality materials, this excellent scope is built to withstand rugged use and can be relied on for a very long time, especially in outdoor activities.
It performs well under various weather conditions, as it is waterproof, shockproof, and fogproof. It has O-ring seals that prevent moisture and debris from entering the internal components of the rifle scope.
It also offers nitrogen purging to prevent fogging, especially during humidity changes. With its steady performance, Vortex Diamondback 4-12×40 is a reliable choice for hunting in the rain, snow, and other conditions.
Adjustments (Turrets) for Windage and Elevation
Precision and ease of use were the primary concerns when designing the Vortex Diamondback 4-12×40 scope's turret system.
The audible and tactile turret adjustments (elevation and windage knobs) allow for precise shooting and repeatability of making adjustments. The turrets let shooters hear and feel each click when adjusting their windage and elevation.
The audible and tactile features are welcome additions to the scope to give shooters immediate feedback, a godsent in the field.
The Diamondback also has an MOA-based adjustment, with one click equaling a specific angular measurement, enabling precision with every move.
Given my personal preference, I found the turrets to be finger-friendly. They are easy to grip and turn, making them reliable companions when making rapid adjustments in the field or when hunting big game.
REMEMBER: The windage knob is used by turning it to the right, while the elevation knob's direction is upwards.
Magnification Range and Parallax
The Vortex Diamondback 4-12×40 scope and its magnification provide users with a wide field of view and detailed aiming at various distances. Its zoom options range from as low as 4x to as high as 12x.
On the one hand, a 4x magnification option allows hunters to have a wider field of view, making it easier to pinpoint and acquire your target within close to mid-range estimation.
On the other hand, when used in sports shooting that puts a premium on longer distances, the highest magnification of 12x is a great deal maker that will help you with your precision shooting at medium to long ranges.
However, it is a different story for its parallax adjustment since this scope does not have the adjustable parallax feature to reduce errors and ensure perfect reticle alignment.
Nevertheless, long-distance accuracy can still be achieved by carefully operating the scope.
Mounting and Rings
Mounting and scope ring compatibility are two of the most crucial components of any rifle scope.
Both hold significant weight in achieving a secure attachment, maintaining a scope's zero, maintaining reticle alignment, protecting optics, increasing durability and recoil management, and ensuring adjustability.
To optimally mount the Vortex Diamondback, you must ensure these considerations are met.
The

scope rings must accommodate its 25.4mm main tube diameter

for security and stability.

The

ring must have a height corresponding to your shooting preference

, scope design, and eye comfort. It must also be compatible with your rail type.

The

rings must be made of premium materials

to ensure the scope remains accurate and stable.

The

manufacturer's torque setting should be followed

to prevent damage and other unnecessary movements.

The

scope must be appropriately aligned

with the bore to prevent windage or elevation from going off-center.
Budget and Price Range
The price must always be right, which is much appreciated in the case of this Vortex Diamondback scope, known for its mid-range pricing of $379.99.
Its price is reasonable and highly affordable given its features, like clear optics, durable design, optimum magnification, and reticles. 
Moreover, this price range makes this rifle scope a compelling and reliable option to consider, as it gives users precision and efficiency at a high level thanks to its components and durable construction, designed to be waterproof, shockproof, and fogproof.
Whether you use it for hunting, tactical operations, or target shooting in hot or cold temperatures, you will surely get your money's worth with the Vortex Diamondback 4-12×40 scope.
Warranty and Customer Support
Warranty and customer support go hand-in-hand in every purchase decision I make because it shows the commitment of rifle scope manufacturers to the quality of their products and services.
This is why Vortex Optics is a go-to: their warranty and customer support are exceptional.
Vortex Optics presents a VIP warranty that includes lifetime and transferable services, which consist of repair and replacement for all of their lines, including their Diamondback scopes.
Vortex offers responsive customer support dedicated to satisfying every customer.
In my experience, they addressed all my needs and concerns, no questions asked, from inquiries on the product to technical support, warranty claims, and other long-term support essentials for scopes.
Advantages of Vortex Diamondback 4-12×40
The Vortex Diamondback 4-12×40 is an excellent buy that offers users the following advantages:
It has a

4x to 12x magnification range

, which is useful on a mid-range hunting rifle and offers similar versatility to closer-range tactical scopes.

It

produces clear images

that can withstand low-light situations.

It is made of

aircraft-grade aluminum

to withstand rugged conditions.

It is

shockproof, waterproof, and fogproof.

It puts a premium on

eye comfort

with 3.1 inches of eye relief between the eyepiece and the user.
This scope delivers versatility from its magnification options, clarity from its images, durability from its construction, and comfort from its features like eye relief. Most importantly, it is a premium scope with a cost-efficient price.
Disadvantages of Vortex Diamondback 4-12×40
Even the best scopes are sure to have certain disadvantages. Some that come with a purchase of this Vortex Optics variant include the following.
Lacks zero-stop turrets; 

Lacks an adjustable objective and

Needs more tactical-specific features similar to higher-end scopes.

Lacks the versatility of a first focal plane rifle scope
This scope is indeed a cost-efficient rifle scope that can be used in hunting, tactical, and target shooting. However, it is a second focal plane rifle scope that lacks higher-end features like a zero-stop turret to prevent accidental adjustments.
Given its mid-range price, however, it is a remarkable option for newbies and pros alike.
FAST FACT: First focal plane riflescopes differ from second focal plane scopes in that the former's reticle changes size as it magnifies, while the latter's reticle stays the same regardless of changes. This makes an SFP scope's reticle less precise at higher magnifications.
Alternatives to Consider
There may be cases where the Diamondback line will be out of stock or may not fit your budget and needs perfectly. What do you do? Explore your options!
Here are some comparable scopes that can serve as alternatives to the Vortex Diamondback 4-12×40: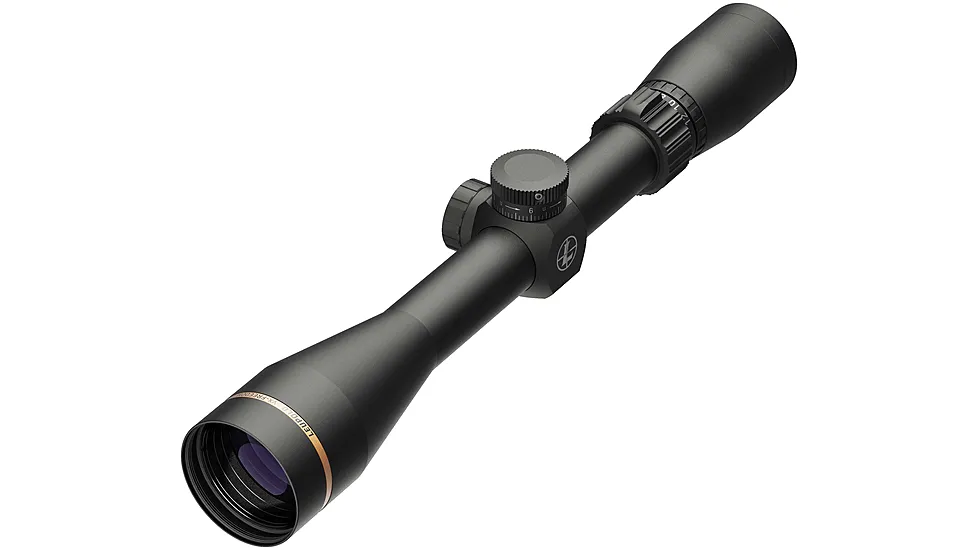 Leupold VX-Freedom 4-12x40
Magnification Range: 4-12x
Objective Diameter: 40 mm
Length: 12.5 in
Weight: 16.1 oz (456.4 g)
FFP/SFP: SFP
Reticle: CDS Duplex, Creedmoor, CDS Tri-MOA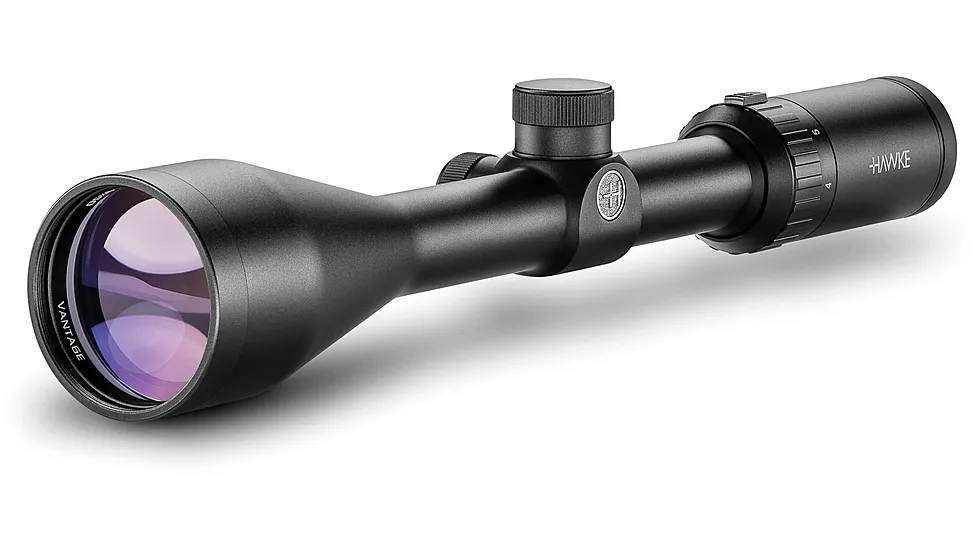 Hawke Sport Optics Vantage 4-12x40
Magnification Range: 4-12x
Objective Diameter: 40 mm
Length: 13.6 in
Weight: 14.6 - 18.1 oz (413.9 - 513.1 g)
FFP/SFP: SFP
Reticle: 30/30 Duplex, Mil-Dot, Illuminated .17/22 HMR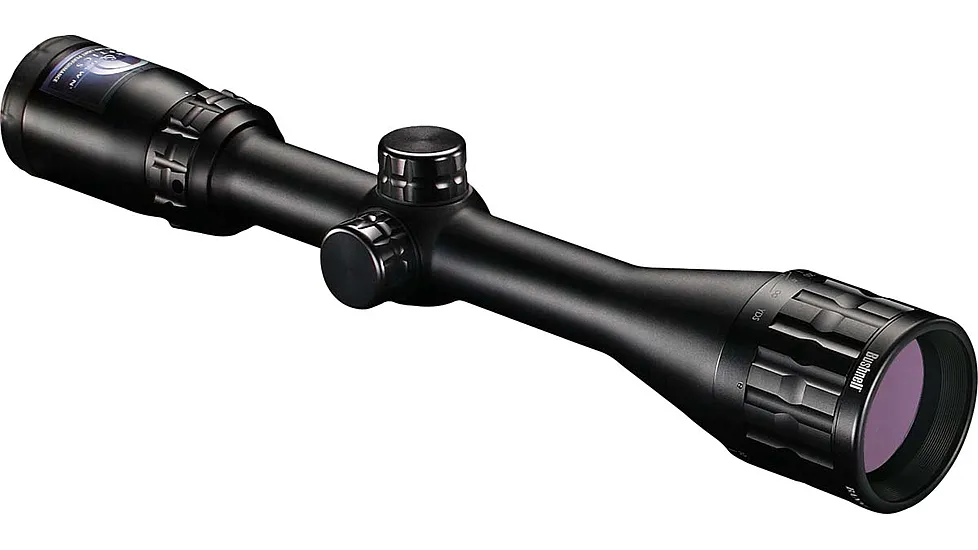 Bushnell Banner 4-12x40
Magnification Range: 4-12x
Objective Diameter: 40 mm
Length: 12 in
Weight: 15 oz (425.2 g)
FFP/SFP: SFP
Reticle: Multi-X
Leupold VX-Freedom 4-12×40
If you want another mid-range rifle scope that can compete with Vortex Diamondback, you cannot go wrong with the Leupold VX-Freedom 4-12×40. It also holds a 4x to 12x magnification range and offers precise images in low light. It is known for its waterproof and fogproof features, making it perfect for outdoor use.
Hawke Sport Optics Vantage 4-12×40
Another reliable rifle scope option is the Hawke Sport Optics Vantage 4-12×40, which offers the same size lens and magnification range as the Vortex Diamondback. It is a cheaper, fully multi-coated alternative with comparable image brightness and durability.
Bushnell Banner 4-12×40
The last alternative would be the Bushnell Banner 4-12×40, which is similar to the Vortex Optics rifle scope in magnification, coating, and reticle. The difference is its quality light transmission for low-light dawn and dusk shooting.
Frequently Asked Questions (FAQs)
Check out some of my answers to your FAQs in this section to better understand the Vortex Diamondback 4-12×40 rifle scope.
Is the Vortex Diamondback Worth It?
The Vortex Diamondback is worth it. It is a good choice for shooters because of its clear optics even in low light, fully multi-coated aircraft-grade aluminum design, and shockproof construction at an affordable price.
It also has exceptional warranty and customer support, making it stand out among other scopes.
Is Vortex Diamondback Better Than Crossfire II?
The Diamondback line offers better optical clarity and image brightness than the Crossfire II, while the latter focuses on comfort with better eye relief and an adjustable objective lens.
That said, the Diamondback is more expensive compared to the Crossfire II, so your choice will vary depending on your needs.
Is a 4-12×40 Scope Good for Hunting?
The Diamondback 4-12×40 is a versatile scope ideal for hunting any size game because you can utilize this optic in varying ranges: close-range, mid-range, or even long-range, thanks to its 4-12x magnification.
Is Vortex Diamondback 4-12×40 For You?
Many shooters argue that the Vortex Diamondback 4-12×40 scope is one of the best Vortex scopes for target shooting, hunting, and tactical shooting, as it feels like a premium scope at a budget-friendly price.
This rifle scope offers valuable optical performance, robust design and construction, and a relatively affordable price, given its features and overall capacity to be used in different weather conditions and environments.
That said, if you are a pro searching for premium features that elevate your shooting experience, this Diamondback may not give you the satisfaction you seek. This one's for you if you are looking for all the bells and whistles with good optics.